OSHEL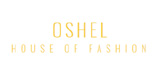 Oshel is an innovative multi-brand women fashion house. It offers unique European brands, with focus on the latest design and top notch quality. Oshel also carries its own brand of products designed in Canada and Europe, and manufactured in Europe.
Hits:
3051,
Registered
15-09-2017,
Country:
Canada
Visit
OSHEL
website
Products and keywords:
formal wear, gowns, evening and cocktail dresses; and casual wear.
Company type:
Multi-Line Showroom
Market:
Women's
Product directories:
Dresses, Eveningwear
Connect with OSHEL: