Prada for Spring/Summer 2014
24 September 2013 | + Boyana Dimova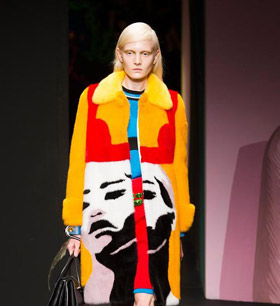 The founder of one of the fastest growing fashion company Prada opened the defiles a new collection on the catwalk during the Milan Fashion Week.
The 65-years-old designer presented models from her collection Spring / Summer 2014, which is inspired by the female ability to gain power.
"I was obsessed with women who need to be strong, look like brave soldiers", said the designer. The mood on the catwalk was completely in line with the beginning of the first day of school, because models were wearing high heels and striped knee socks.
Unlike the traditional summer collections of Prada, the designer presented coats with graphic images of female faces.








Photos: fashionising.com



Hits: 1501
5 Must-Have Summer Accessories Women Should Have
---
How to Incorporate Your Leggings for Your Business Casual Look
---
What is the Best Color to Wear On a First Date?
---
Why Is Online Betting So Popular?
---
A Guide to Treating Yourself This Winter
---
Freelance Fashion Design: Simple Solutions to Complex Problems by Apparelmark
---
Ways That Clothes Can Help Us Feel Better
---
The spark of ethnic jewellery
---
How to Build Your Ultimate Work Wardrobe
---
Richmart Junior children's jackets collection presented in Paris
---