Benefits And Uses Of Essential Oils In Daily Life
09 January 2017 | + Silvia Kabaivanova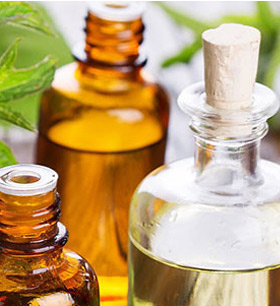 From the sweet lavender aroma to the stimulating eucalyptus fragrance, essential oils enliven your body and ignite your senses.
Essential oils have been in used for many centuries in different cultures for health and medicinal purposes. The uses of essential oils range from domestic cleaning products, aromatherapy, natural medicine treatments and personal beauty care. The particles used in the making of essential oils come from different plants extraction and distilling. It includes the leaves, resin, peels, bark, flowers and roots. In the olden days, Egyptians and Jews made these oils by soaking various plants in natural oil and filter the oil through the cotton bag.
The benefits of essential oil come from their anti-flummery, antimicrobial and antioxidant properties. The use of these oils is increasing widely because they work as natural drug without side effects. Do you ready to harness the control of proven therapeutic compounds? Here, I would like to talk about the benefits of these amazing and healing essential oils.
Some of commonly used essential such as frankincense, lavender, tea tree oil and peppermint to your healing medicine cabinet include:
Fight flu and cold symptoms
Soothe sore and relax your body
Balance hormones
Heal skin conditions
Used in beauty care products
Clean your office and home
Reduce wrinkles and cellulite
Improve digestion
Alleviate pain
Some major properties of essential oils are:

Essential oils for wellness
If you prefer to supplement your diet or boost your energy and control your weight, infused multivitamins of essential oil empower you to cater your wellness needs in a natural mode.

Essential oils for beauty
Body, bath and skincare items that are infused with different essential oils instead of chemicals allow radiating your natural beauty while experiences the amazing herb properties such as sandalwood and lavender.

Essential oils for peace of mind
By giving you mental support for emotional wellness, this oil incorporates into your every-day routine to assist you to find life inner serenity and balance.

Essential Oils For Hair Growth
These oils for hair fall can work in a magical way. Oils of lavender, sage and rosemary help thicken hair naturally by stimulating the follicles of hair.

Ways of using essential oils
These oils enter your body in three ways-inhaled, ingested and applied to your skin. Within these three, there are many other types of application techniques. For instance, you can apply these oils using sprays, massaging your skin, and compresses.

Essential Oil Quality
It is one of the main concerns you must consider about essential oils. These oils are not created equally. Most of them are useless to your health and synthetic. When buying, these oils ensure they are certified therapeutic grade.

What carrier of essential oils do we use?
Common carrier oils are available in stores or natural stores that specialise in body and natural bath products. Cold and organic carrier oils are recommended, and examples are apricot kernel oil, almond oil, jojoba oil, grape seed oil, and avocado oil. All these oils do not contain the strong smell. You should keep them in the refrigerator once you used them and must be discarded if they are rancid.



Hits: 3850
6 organizations will participate in the CLOTH project ClusterXChange in Ruse/Bucharest 19-21 April 2023
---
Site for quality women's underwear at low prices
---
Leggings with Lifting and Tightening Effect: True or False?
---
White Label World Expo 2023 - UK's leading online retail sourcing show
---
Which dress is best for a birthday girl?
---
5 Watches Worth Investing In Today
---
4 Types of Engagement Ring Settings
---
Choosing Lab-Grown Diamonds in Calgary
---
Why we can't get enough of unisex jewellery
---
Choosing the Right Hair Cut and Finding a Cut and Color Salon Near You
---