A Guide to Treating Yourself This Winter
08 January 2019 | + Silvia Kabaivanova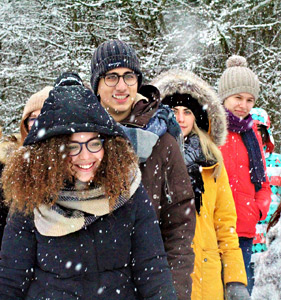 Winter is the time when the natural desire is to shut the door, get warm and hibernate. It's your opportunity to restore yourself after a busy year and recover from the holiday season and prepare for the new year ahead.
Self-care is essential, especially when you are juggling the demands of family life and career. If you don't look after yourself, the consequences can be far-reaching. There is often a degree of guilt when it comes to doing something just for you, it feels frivolous, but there are several benefits to treating yourself:
When you deprive yourself, feelings of resentment, frustration and exhaustion can overwhelm you.
It can help you feel rejuvenated.
It can help to reduce feelings of stress.
It can help boost your mood.
You work hard, and what better way to reward your efforts than that to treat yourself? Here's a guide to treating yourself this winter, and hopefully you will be inspired to take time out for yourself and indulge on a more regular basis.
Eat well
You know that a healthy and well-balanced diet is the way to fuel your body, and during winter, it is especially important to help ward off viruses and colds. However, it can be easy to sacrifice healthy eating for convenience. If you subscribe to a gourmet chef prepared food service to do the prepping for you, you can have the best of both worlds. Yes, it's a luxury, but what a treat!
Get outside
There is little more rejuvenating than a brisk walk in the fresh air. Walking is a great way to get the blood pumping to release the body's natural feel-good hormones endorphins. Spending time in nature helps to put things into perspective, and it gives you valuable thinking time. Make it even more of a treat by wrapping up warm in a new duffle coat for women; you may as well look stylish too!
Meet up with friends
It can be easy to let good friendships slide when life is busy, but meeting up with old friends can be just the tonic that you need. Laughter is always the best medicine, so schedule some time away from the family and hook up with your pals. A spa day or a meal out will give you the opportunity to spend time with friends without the distraction of family and the everyday chores that can dilute the quality of the time that you spend together.
Taking a break from the everyday routine, even for a short while, triggers relaxation and gives you a vacation from reality, so that when you are back into it, you are feeling stronger and rejuvenated. Treating yourself can be as extravagant or budget-friendly as you wish. You just need to be able to take time out and do activities that give you pleasure. It's an opportunity to recharge and gather your thoughts, identify goals and the steps that you need to take to reach them.



Hits: 3540
6 organizations will participate in the CLOTH project ClusterXChange in Ruse/Bucharest 19-21 April 2023
---
Site for quality women's underwear at low prices
---
Leggings with Lifting and Tightening Effect: True or False?
---
White Label World Expo 2023 - UK's leading online retail sourcing show
---
Which dress is best for a birthday girl?
---
5 Watches Worth Investing In Today
---
4 Types of Engagement Ring Settings
---
Choosing Lab-Grown Diamonds in Calgary
---
Why we can't get enough of unisex jewellery
---
Choosing the Right Hair Cut and Finding a Cut and Color Salon Near You
---