Reasons to wear gold bracelets
30 October 2019 | + Boyana Dimova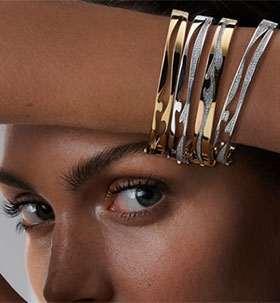 Bracelets are style accessories worn on the wrist. Bracelets are a fashion mainstay product for women. However, with the fluidity of fashion, it is not unusual to find men also wearing bracelets.
Bracelets are worn for different reasons by different people. Listed here are some of the reasons that bracelets are worn.
Gift
Bracelets are some of the most common gifts that people give to or receive from their lovers. As a result, you will see people who have a favorite bracelet just because it was a gift from someone they love.
Culture
In some cultures, beauty accessories are strictly left to women. For example, in the Indian culture gold bracelets for women and other jewelry are highly valued.
In India, as part of the culture, you will find that women adorn themselves in numerous jewelries including bracelets, bangles, beads and necklaces all made from pure gold. They are partly an investment and also to maintain and accentuate their beauty in a culturally acceptable way.
Personality
Bracelets are a great way to show your personality. Outlandishly designed bracelets can identify you as a jovial, fun loving person while subtle and subdued bracelets can quickly identify you as a friendly person who quickly gets to know people and blend in well. Bracelets allow you to display your uniqueness as a person, in your style and tastes when it comes to style and fashion. Custom made bracelets, also easily allow you to express your personality and taste.
As a store of value
This especially applies when you have numerous bracelets made of valuable material such as gold. As already mentioned, women hold their gold bracelets and jewelry in India as investments.
Pure gold bracelets maintain their value for money and even appreciate rather than depreciate in price as with other types of jewelry. As a result, bracelets are kept as family heirlooms passed down from one generation to another.
Social status indicator
Gold bracelets for women especially serve the purpose of social status indicator well. Gold jewelry is quite expensive. Therefore, if one can afford to wear a gold bracelet, it means that they are doing well financially.
Conversation starters
Beautiful and uniquely designed bracelets are good conversation starters. This is especially so if you are in a place where you are not familiar with a lot of people. People will be attracted to the unique design of your bracelet and will want to talk to you about it. It is even better if it is custom made. You can start a jewelry design business if you've designed it for yourself or refer new clients to your designer.
Fashion
It is very easy for trendy people to wear bracelets just because they are in fashion. This is a common reason for wearing any pieces of jewelry.
Bracelets are timeless pieces of jewelry and only the designs change with trends. Gold bracelets are good indicators of sophistication, style and fashion sense. They are glamorous and go well only with certain outfits and thus cannot be worn at all times.
How you pair them with your clothes indicates a good understanding of fashion and trends.
As a souvenir
Bracelets are also worn as to maintain a memory of an occurrence. You can make customized bracelets for a group of people that had a shared experience. For example, bracelets are a beautiful graduation souvenir. A couple can have similar bracelets as gifts for their wedding.
For a confidence boost
When wearing beautiful gold bracelets, you will not need anyone to let you know that it is beautiful. However, if people notice and compliment you about it, it makes you feel good about yourself and boost your self-confidence.
Conclusion
To buy a gold bracelet for women, go to Georg Jensen for a variety of styles and designs. They stock high quality bracelets at pocket friendly prices. You already have nine good reasons why you can wear your bracelet.



Hits: 2737
6 organizations will participate in the CLOTH project ClusterXChange in Ruse/Bucharest 19-21 April 2023
---
Site for quality women's underwear at low prices
---
Leggings with Lifting and Tightening Effect: True or False?
---
White Label World Expo 2023 - UK's leading online retail sourcing show
---
Which dress is best for a birthday girl?
---
5 Watches Worth Investing In Today
---
4 Types of Engagement Ring Settings
---
Choosing Lab-Grown Diamonds in Calgary
---
Why we can't get enough of unisex jewellery
---
Choosing the Right Hair Cut and Finding a Cut and Color Salon Near You
---