Ordering Art Work Online: What To Look Out for?
08 June 2020 | World Fashion Info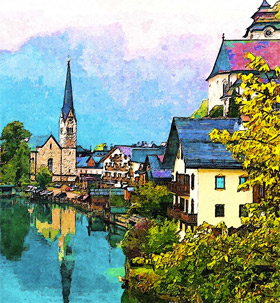 When ordering artwork online, it is important to remember that the dimensions and other crucial elements such as the weight can be difficult to judge over a computer screen. However, with several online stores providing information into this, it is possible to get the artwork you want with ease. To help you get this right, we have compiled a list of some of the elements you need to look out for when purchasing art online.

Consider The Size Of The Art
When purchasing artwork online, you should consider the size of the artwork that you are looking to buy. This is because the images of the artwork may not be enough to judge the size of the artwork. Several websites provide you with many size options when purchasing, allow you to purchase and gain access to the artwork that you want for our living area and other areas of your home.

Look At The Price
Another element to consider is the price of the artwork that you are purchasing online. With a multitude of companies offering artwork and customised canvases of all sizes and prices. As a result, it is important to shop around when looking to order canvas online regardless of the size. This will help you to make the best possible price on a canvas that you want. Whether you are purchasing from the supermarket or you are heading to a printing company, this is a way for you to find artwork that works for your home at a price that works for you.

Consider The Décor In Your Home
Another element to consider when purchasing online, it is vital that you consider the décor of the room your artwork will be hung in. By choosing the main colour and finding artwork that works with this colour, you can complete a room that works well for you. Whether it is a kitchen space, a living room or a spare bedroom, you can find artworks of all different kinds to make the room stand out. Whether it is abstract art or a printed canvas of you and your family, this can help to make the home stand out.

Find Out As Much Information As You Can
The final element to consider when buying art online is the ability to ask questions. Whether this is looking into those that are selling it or messaging the seller directly, this is the perfect way to find out more about the art and make sure that you are getting what you pay for. This is something that you should consider, particularly if it is buying artwork second hand. However, if you are making your own prints it is important to look at the size as well as the quality of the image to ensure it is exactly what you want before buying.

With this in mind, there are several elements for you to consider when purchasing artwork online, all of which will help you to make the best possible decision with the artwork that is going into your home. Where will you start when ordering your artwork?



Hits: 2466
6 organizations will participate in the CLOTH project ClusterXChange in Ruse/Bucharest 19-21 April 2023
---
Site for quality women's underwear at low prices
---
Leggings with Lifting and Tightening Effect: True or False?
---
White Label World Expo 2023 - UK's leading online retail sourcing show
---
Which dress is best for a birthday girl?
---
5 Watches Worth Investing In Today
---
4 Types of Engagement Ring Settings
---
Choosing Lab-Grown Diamonds in Calgary
---
Why we can't get enough of unisex jewellery
---
Choosing the Right Hair Cut and Finding a Cut and Color Salon Near You
---