What Do The Top 5 Best Jewelry Stores In Orange County CA Offer
20 January 2021 | + Silvia Kabaivanova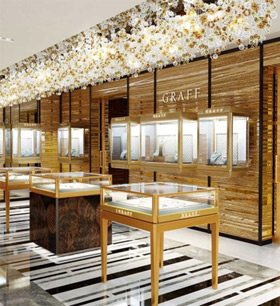 Are you shopping for jewelry? Well, you are in front of an incredible journey. Some exquisite pieces on the market will take your breath away. Whether you are looking for a birthday present, engagement ring, or a simple treat for yourself, this is the right guide for you.
You will encounter tons of different colors and materials, wishing you had them all! You will have a variety of options from which you can choose. Emerald-cut, vintage or Victorian style, and this are only for the engagement rings.
You can have a piece of custom-designed jewelry that will be one-of-a-kind. How do you find the perfect piece of jewelry without going to every store on Earth? You would need a little help from this guide to learn basic things about the quality and prices of jewelry. Follow the link to read more about this subject: https://www.ocregister.com/2019/09/19/best-of-orange-county-2019-best-jeweler-jewelry-store/.
Diamond types
If your hunt is for a diamond piece of jewelry, you might want to learn something about the type of diamonds. When it comes to an engagement ring, it seems that the most popular is the diamond one. To choose the best one, you need to understand the color, cut, carat, and ring clarity.
You are probably familiar with the importance of carats. It is only logical that the higher the carat, the more expensive the ring is. Carat is the gemstone's weight or density, and it makes the ring more valuable.
Although carats are quite significant, several other things need your attention. The clarity of the ring is the second thing you want to check before you decide anything else. If you are looking for the perfect ring, those minute size perfections could significantly make a price difference.
For a more sparkly ring, pay attention to the cut. If you are choosing something other than a ring, diamonds sparkle when their cut is good. So, a neckless with a perfect diamond cut would catch everyone's attention for sure.
Last but not least, check the shape and the color. This only depends on your wishes and style. You can find different sizes, colors, and shapes that would be appropriate both for your budget and your taste. Once you have basic diamond knowledge, it is time to find the best store. So, where to start?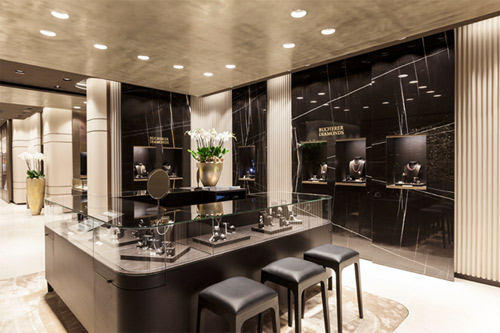 Decide your price range

The first step towards the right jewelry store should be deciding your price range. Various stores possess various pieces of jewelry. Choosing your price range will help you move faster from store to store.
If you are looking for something special, check the online site of a couple of stores to see if they have the piece you need. You can compare different prices and see which one suits you the best. If you have the extra time, it is good advice to check the stores that caught your eye and see the products in person.

The reputation of the store
The second thing you want to check is the reputation of the store. Usually, family-owned stores have a high reputation that lasts for years. This is because they genuinely care about their products and make them original every time.
Nevertheless, you can ask around for recommendations and experiences online. If you don't trust online reviews, you can always consult with a friend, colleague, or family member. The chances are they have bought a piece of jewelry and can share their real experience with you.

Having a positive reputation in the community is of great value for a store. So, a business that has established this reputation tends to keep it so or even make it better. This means that the owners are passionate people who care about their clients and their products. The best Orange County jeweler will show you this passion and dedication to the business.

Experience and certifications
The experience of a particular store talks a lot about the quality of their products. Also, experienced owners will know how to help you choose in a matter of seconds. Inexperienced ones will show you hundreds of jewelry pieces and confuse you additionally.
An owner that has been working well for years has learned to understand his or her customer's wishes and taste. This helps them make a better sell and have happy customers.

The thing you want to pay close attention to is the certifications of the staff. A couple of credentials will give you a clue whether or not you are dealing with professionals. Certificates like the one from Jewelers of America, American Gem Society, or similar, will be enough proof that the store is qualified and has the necessary knowledge to run the business.

These certifications prove that the staff knows the store's products, offers good customer service, and knows how to repair and produce good jewelry. Click here to read more about this topic.

Welcoming, accessible owner
Last on the list is to see how the owner handless the sales and the business itself. Some can be pushy when trying to sell, and that can't be a good sign. A good owner with a deep understanding of the customer's needs would never push you or anyone else to buy something you don't like.

Being an accessible manager with a welcoming staff presents a healthy and growing business. Moreover, this will allow you to come again to the store and continue to be a trustworthy customer.



Hits: 909
THE FIVE STEPS FOR CHOOSING A PERFECT ENGAGEMENT RING
---
Kingston University presented 10 design and illustration student projects
---
White Label World Expo Frankfurt 2021
---
The essential Red Bull Racing merch every fan should have
---
The Science Behind Football Helmet Decals
---
How UK Fashion Designers Are Changing the Industry
---
How to Find Great Custom LGBT Weeding Suits
---
Vancouver Custom Suits and Bespoke Tailored Suits
---
Summer Resort Clothing for Women
---
Take part in Circular City Week New York
---