How to Find Great Custom LGBT Weeding Suits
20 May 2021 | + Silvia Kabaivanova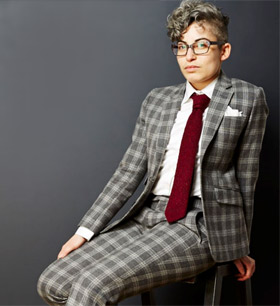 Tradition says that women should wear wedding gowns when getting married, while guys should suit up. The bottom line is that both parties need to be elegantly and smartly dresses. What if, however, your idea of getting elegantly and smartly dressed doesn't involve gowns at all? Or suits for that matter? What if you and your partner aren't up for following that tradition?
Well, nobody can, or should, make you do it! Love most certainly isn't a one-size-fits-all thing, and neither should your wedding attire be. So, if you are looking for lesbian wedding outfits, you might want to think about what you and your partner precisely want, because you'll be able to get it no matter what it is. How is that possible, though? Surely, if you picture a specific costume that you have just invented, you won't be able to buy it, since it won't be out on the market, right?
It seems that you should get your wallet out, because you are undeniably wrong on that one. Even if you imagine the most unusual attire that nobody had ever seen before, you'll be able to get it for your wedding day, because you can work with LGBT custom tailors. These professionals will help you get the right outfit for you without having to conform to the traditional views on how brides should look.
Now, I am quite certain that you wouldn't think of wearing some odd costumes for your wedding and that you would much rather go for, say, a suit, or a similar, sophisticated outfit. No matter which outfit you choose, though, one thing is for sure, you will want it to be of perfect quality. Do you, however, know how to find great custom LGBT wedding suits and outfits? If not, I suggest you keep on reading, because I'll give you some helpful tips on that.
Talk To Your Friends
When you decide to get yourself custom LGBT wedding suit, the first thing you should do is talk to your friends about your future attire. Let them give you some suggestions regarding the cuts and the colors. This is especially important if you don't have quite a good sense of fashion and you still want to look amazing on your wedding day. Basically, listen to the ideas that your friends will have and think about whether they might be right on certain colors and cuts.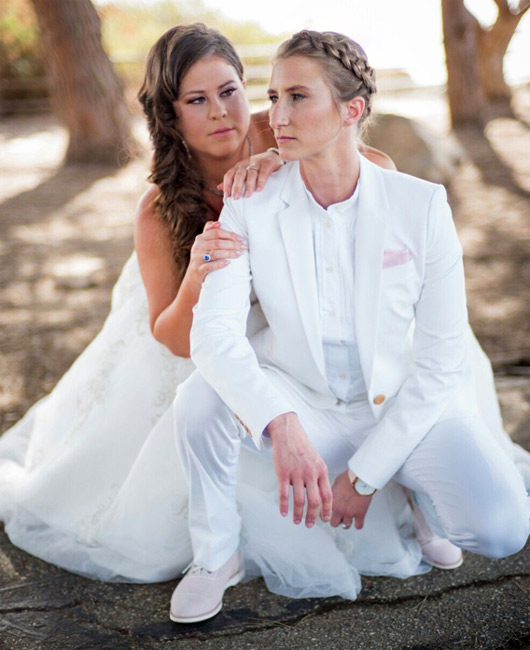 Choose The Right Tailor
Before you get to choosing the right suit for you, though, you will need to find the right brand that can make it for you. In other words, you will need a tailor and choosing the best one in your area can be quite tricks. This is particularly true if there are a lot of different tailors in your area ready to offer these services. What's more, the idea of virtual fittings has allowed you to choose even those tailors that aren't located in your area.

This puts you at a huge advantage because you will have a lot more options to choose from. Yet, this can also make your whole task of choosing the right tailor much more difficult. The more options you have, the harder it will be for you to actually make a choice. In any case, if you do enough research, you will undeniably manage to make that choice. The same goes for choosing what to wear on your wedding day, as talked about on this page.

If you aren't quite sure that you know how to do this research, let me give you a few pieces of advice. First of all, you should search for these online and you might want to ask a few acquaintances if they have a good tailor that you could use for this occasion. Once you find some options, you should do find as much information about those as possible, so that you can eliminate any not-so-good candidates from the list. While narrowing down the list, you should pay attention to their experience, as well as reputation. That way, you will be able to make the right choice.

Determine What Looks Good On You
After figuring out which tailor you want to work with, you should take some time to check which cuts and styles actually look good on you. Once again, if you don't quite have a sense of fashion, it would be a good idea to consult someone on this. You can even talk to your tailors about this, and you can also find a few tips on the Internet that will help you understand what would suit your body shape. You'll undeniably manage to get quite a few useful tips on that.

Check Prices
I suppose that you are ready to pay any price it takes in order to make your wedding beautiful and memorable. This, however, doesn't mean that you should pay any price for your suit and that you shouldn't compare the offers you get from a few different tailors. Of course, the quality of the materials and the overall style and cut will play a huge role in the price, but the bottom line is that you should do these comparisons so that you know who can give you the best offer. It goes without saying that the quality should never actually be compromised for a lower price, as it is undeniably more important. Still, when you do these comparisons, you'll get the absolutely best value for your money.

Let Someone Accompany You During Your Fittings
There is another thing that you should never forget to do when trying to find the best custom suit for your wedding. I am talking about the fact that you might not be able to determine whether something fits well or not because you'll probably be too excited to get your outfit right away. This just means that you should have someone accompany you during the fittings, so that you can be sure that your eyes aren't actually tricking you and that the suit you are choosing looks amazing on you.



Hits: 876
Models and fabrics for women's tunics
---
Top Luxury Brands To Shop On Black Friday
---
THE FIVE STEPS FOR CHOOSING A PERFECT ENGAGEMENT RING
---
Kingston University presented 10 design and illustration student projects
---
White Label World Expo Frankfurt 2021
---
The essential Red Bull Racing merch every fan should have
---
The Science Behind Football Helmet Decals
---
How UK Fashion Designers Are Changing the Industry
---
How to Find Great Custom LGBT Weeding Suits
---
Vancouver Custom Suits and Bespoke Tailored Suits
---