Kingston University presented 10 design and illustration student projects
05 August 2021 | + Silvia Kabaivanova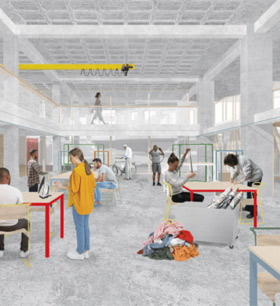 A desk that is designed to hang in a wardrobe when stored and garments tackling archetypal male stereotypes were presented in the latest school show by students at Kingston University's School of Art.
Also included is a health service design for the London Borough of Barking and Dagenham encouraging outdoor activities, and illustrations promoting sustainability.
"The Design School at Kingston School of Art is comprised of four departments: 3D Design, Fashion, Graphic Design, Illustration Animation. BA Product and Furniture Design and BA Interior Design are in the Department of 3D. The content and structure of courses is inspired by engagement with commercial and community partners and informed by material and manufacturing collaborations and academic research. The courses deliver an environment for experiential learning – both digitally and intangible use of materials. Students work with live clients in demanding real-world contexts.
"Kingston School of Art's BA Fashion graduates are highly employable, with many working for some of the most famous fashion houses in the world. We encourage exploratory and experimental thinking, collaborative working, and seeking early acclaim and recognition outside the university. BA Graphic Design, a longstanding and respected course, has seen 90 per cent of its graduates go on to work in the creative industries in the last three years.
"The Illustration Animation BA(Hons) at Kingston combines narrative and time-based subjects to give the undergraduate complete creative freedom to engage in visual thinking, expression and communication. Illustration has expanded from the traditional printed page to explore many forms of visual media. We support learning through making, and every student is given free access to all workshops. This enables them to test and prototype using any process from etching to ceramics to arc welding to laser cutting and 3D printing or large scale textile printing."
See below more information about the projects: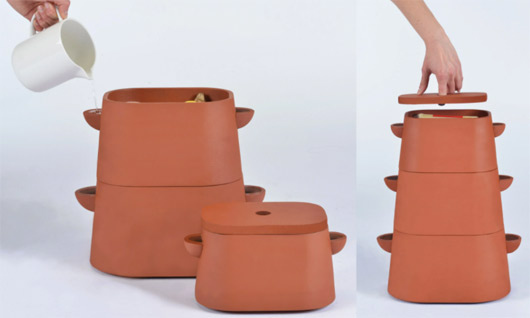 Terracooler by Ellie Perry
"10 per cent of household energy is used by domestic fridges. The UK produces 14 million tonnes of food waste each year. Why are we wasting electricity on food that we then waste?
"A modern take on the Zeer pot, an ancient method of cooling that dates back to 3000 BC. Using the natural properties of terracotta, all you have to do to keep your food cool is water it.
"The pots are slip cast with a double-wall, allowing the user to pour water through the spouts into the body. The porosity of the terracotta absorbs the water, cooling the food as it evaporates. Terracooler not only reduces energy consumption but raises awareness of food storage to prevent food waste."
Student: Ellie Perry
Course: BA Product & Furniture Design
Tutors: Phil Davies and Jon Harrison
Email: ellieperrydesign[at]gmail.com
---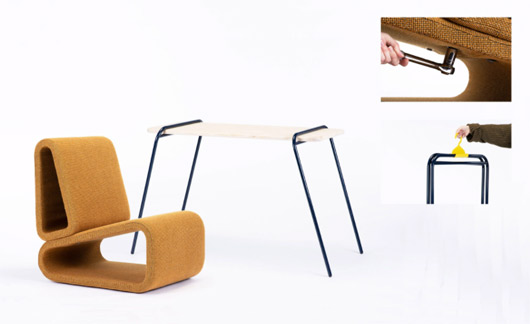 Two projects tackling the unnecessarily complex nature of furniture assembly by Charlotte McGowan
"Set Tee is a modular lounge system design for both domestic and contract markets. The delivery and packaging are minimal, with the backrest component stored within the seat for transportation. Four bolts and a wrench are needed to assemble. Laminated Aero Ply-formed structure with foam and woven fabric upholstery.
"It is a three-part piece, a temporary workstation/desk designed to hang in a wardrobe when stored. The legs slide on, removing the need for fasteners. It is designed for domestic markets and has a lightweight honeycomb surface with hardwood lipping, tubular steel legs."
Student: Charlotte McGowan
Course: BA Product and Furniture Design
Tutors: Phil Davies and Jon Harrison
Email: charmcgowan.designs[at]yahoo.com
---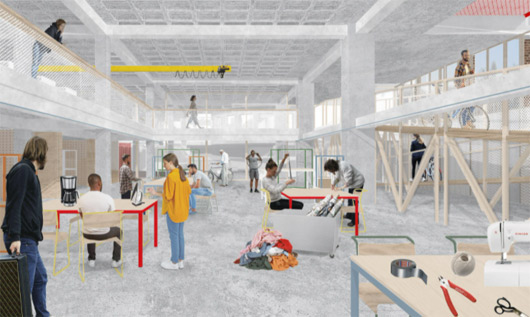 Multihall by Clara Janka
"The Multihall is a building for the public that raises the discussion on how town centres can be revitalised. It asks questions on how we can adapt our lifestyle to be more sustainable in our behaviour.
"The project transforms a dark and airless residual space below a well-known department store into a porous and productive urban landscape. The processing of waste into resources becomes a civic event that wraps around a central workshop that becomes a venue at night.
"A sequence of interiors redirects a town back towards its river, creating the opportunity for consumers to become ethical producers."
Student: Clara Janka
Course: BA Interior Design
Tutor: Greg Epps
Email: clara.janka[at]outlook.com
---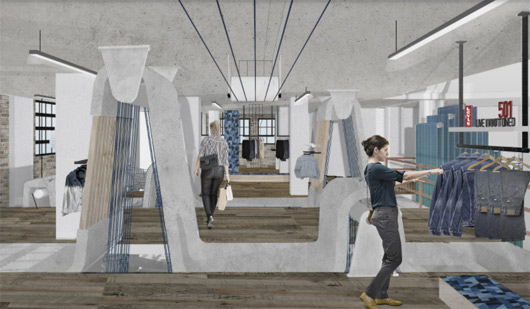 Levi's Tailor Shop by Hannah Gould
"This body of work is inspired by apparel denim brand Levi's and their current retail feature, the Levi's Tailor Shop. Located at the Tea Building in Shoreditch, this major project embodies the tailor shop. It architecturally integrates the extension of product longevity through reconstructing denim for use in a physical retail space with a denim factory.
"This factory swaps traditional production processes with more sustainable methods. It utilises local food waste for fabric fibres to create an exclusive clothing line for Shoreditch customers. Visitors witness the construction of the garments sold in front of them as they circulate the store."
Student: Hannah Gould
Course: BA Interior Design
Tutor: Greg Epps
Email: hlgould[at]hotmail.co.uk
---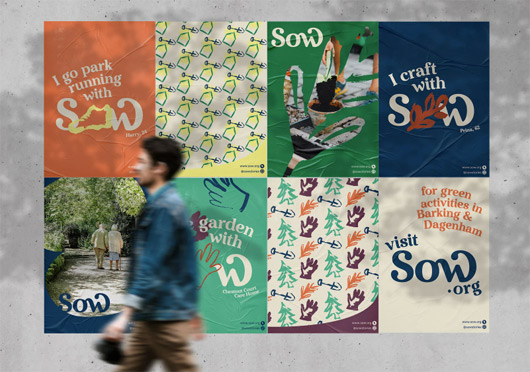 Sow by Chloe Hulse, Lydia Millar, Morwenna Morgan
"Sow is a health service design for Barking and Dagenham, a borough with the highest childhood obesity rate and a lower life expectancy than the London average.
"Harnessing the huge health benefits of the great outdoors, our service includes an app or alternative non-tech user journey, through which users can access outdoor community activities, including newly proposed schemes like intergenerational gardens.
"With community and inclusivity at its core, Sow's branding includes illustrations co-designed with the community and a custom display typeface inspired by the shapes of plants. It provides preventative and curative interventions for the long-term health of the entire community."
Students: Chloe Hulse, Lydia Millar and Morwenna Morgan
Course: BA Graphic Design
Tutor: Marcus Leis Allion
Emails: chloehulse[at]gmail.com, lydia-millar[at]hotmail.co.uk and morwennagmorgan[at]hotmail.co.uk
---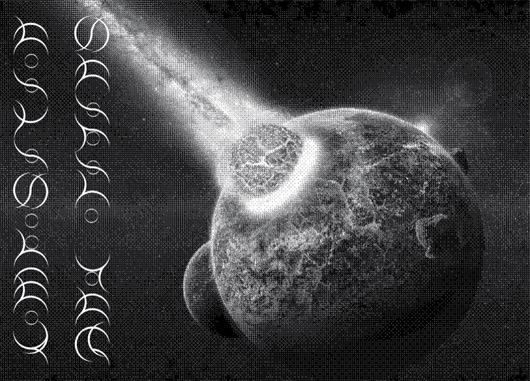 Falcate by Jack Rawlings
"Falcate is a sleek and modern display typeface and educational publication produced for the ISTD brief Biophilia. Falcate was produced using the Moon's crescent phase as inspiration, celebrating the human connection we have to the natural world.
"Presented as a specimen book, this project includes utilisation and showcasing of Falcate as a typeface, an accompanying range of republished and typeset informative articles by the Institute of Physics, and clearly defined visual language in the means of processed imagery and content treatment carried throughout."
Student: Jack Rawlings
Course: BA Graphic Design
Tutor: Marcus Leis Allion
Email: jackrawlings01[at]gmail.com
---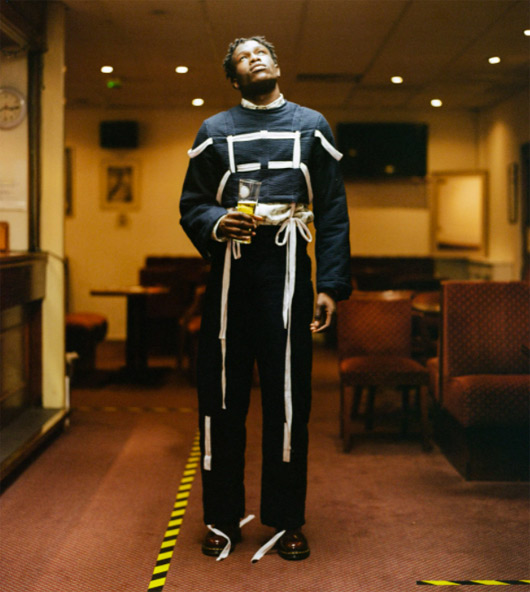 Fragile Masculinity by Edie Owens
"Fragile Masculinity; Handle With Care is an exploration of masculine identity, focussing on the inhibition of self-expression within male-dominated environments due to societal pressures and expectations of men to assume the role of the archetypal man.
Handle With Care observes the effects and limitations of hegemonic masculinity stemming from a fascination with blokes. Using workwear influences juxtaposed with sensitive fabrications and symbolism, HWC aims to encourage conversations surrounding masculinity and class.
"Hoping to allow men who embody masculinity through their work to break away from conventional and often constrictive expectations surrounding what it means to be a 'man.'
Student: Edie Owens
Course: BA Fashion
Tutor: David Frizzell
Email: studio[at]handle-withcare.co.uk
---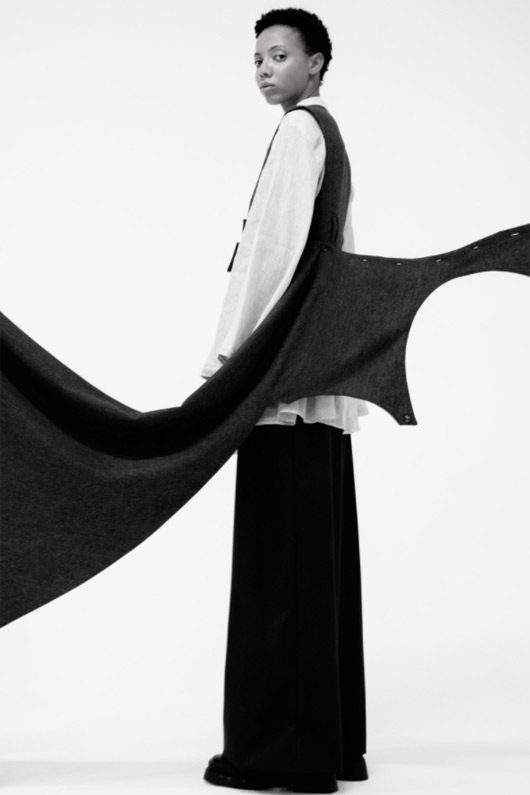 This collection aims to bring valuable knowledge from tradition into the contemporary mainstream by Ana Maria Atanaskovic
"This collection aims to bring valuable knowledge from tradition into the contemporary mainstream. How were previous generations able to create such long-lasting and powerful things with so many fewer resources?
"While studying historical Serbian garments, I concluded that well-thought-out purposes and multi-functionality were the key.
"Influenced by historical and cultural references, my collection introduces traditional dress to modern elements. Made up of layers that work together and fabrics carefully chosen to give a refined, feminine look to the unisex silhouette, my designs were adapted to become functional, ready for action and movement."
Student: Ana Maria Atanaskovic
Course: BA Fashion
Tutor: David Frizzell
Email: atanaskovicanamaria[at]gmail.com
---

Red Louise by Louise (Ju-Yi Hung)
"Red Louise (Ju-Yi, Hung) is an interdisciplinary illustrator based in London and Taiwan. Studying and keeping caterpillars from a young age developed her fascination with ecology. One of her practices lies in transforming scientific information of living organisms and their environment into illustration.
"She hopes that her publications can encourage readers to become more curious about ecology and immerse themselves whilst bringing others closer to nature.
"Her research is about the investigation of environmental education to post-modern world art education, particularly in printmaking. Raising social awareness of sustainability in printmaking through visual communication will always be her mission."
Student: Louise (Ju-Yi Hung)
Course: BA Illustration Animation
Tutor: Paddy Molloy
Email: louise8707ge[at]gmail.com
---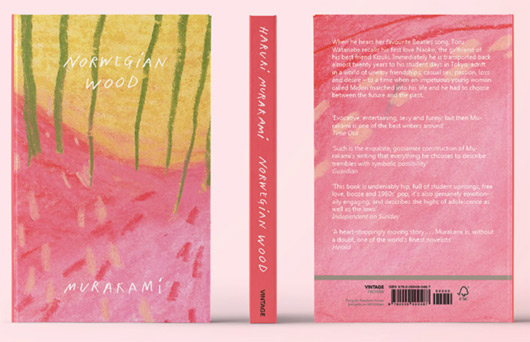 Norwegian Wood by Laina Deene
"Laina Deene is an illustrator and animator based in Brighton, particularly interested in creating pieces that draw from literature, memory, and the natural world. Her main inspiration comes from reading, exploring, and observing.
"Laina likes to use organic mediums that allow room for mistakes and unpredictable marks both on paper and in 3D. Currently, Laina is working with digital mediums to try and create ways that can retain the naivety that is apparent in handheld materials within the screen."
Student: Laina Deene
Course: BA Illustration Animation
Tutor: Paddy Molloy
Email: hellolainadeene[at]gmail.com
School: The Design School, Kingston School of Art, Kingston University
Courses: BA Product and Furniture Design, BA Interior Design, BA Fashion, BA Graphic Design, BA Illustration Animation
Tutors: Phil Davies, Greg Epps, Marcus Leis Allion, Paddy Molloy and David Frizzell
---
Kingston Cleaning Services - Whether you require one cleaner at a single location, or a team of cleaners at various locations, Cinderella Cleaning & Ironing Services can provide tailor-made cleaning services for your business to suit your budget.



Hits: 2227
Non-Prescription Sunglasses, Daily Contact Lenses, and Monthly Contact Lenses: Points to Consider While Buying
---
How to Wear Headbands: A Comprehensive Guide to Selecting and Styling This Timeless Accessory
---
6 organizations will participate in the CLOTH project ClusterXChange in Ruse/Bucharest 19-21 April 2023
---
Site for quality women's underwear at low prices
---
Leggings with Lifting and Tightening Effect: True or False?
---
White Label World Expo 2023 - UK's leading online retail sourcing show
---
Which dress is best for a birthday girl?
---
5 Watches Worth Investing In Today
---
4 Types of Engagement Ring Settings
---
Choosing Lab-Grown Diamonds in Calgary
---