Best Brand For Women's Bag
21 January 2022 | + Silvia Kabaivanova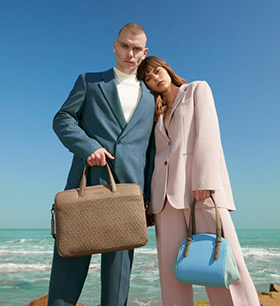 Louis Vuitton has successfully mentioned its name in the bag industry for a long time. Louis Vuitton is not only stylish but also durable, profound and innovative brand producing handbags. The brand offers a unique design and quality that never disappoints its customers.

Kimono

Kimono, which has a classic V motif, is one of Louis Vuitton's most popular handbags. The bag was inspired by the name of Kimono, which is a traditional Japanese dress. This bag is an excellent option for daily use. Durable but delicate and looking elegant. Kimono was not only manufactured for style, but also for comfort and functionality. Its style combined with a simple design makes it very unique.

Neverfull

The Neverfull model is one of Louis Vuitton's leader bags. The flexible leather combined with its non-stiff soft sides gives you complete comfort. The bag comes with a stylish wallet that you can use for your more important items. It has a superly positioned internal design to place your items in an orderly way. At the same time, it is very durable and even after years of use, it does not show symptoms of wear.

Speedy 30

This model is one of the most popular bags known for the brand's durability. Speedy 30 is well designed in brown leather. The bag is produced to keep your items safe regardless of weather conditions. The best time to carry this bag is in bad weather. It is produced from high-quality leather, therefore, even if it is used for a long time, it does not show that it is old. It is sold with a long strap apparatus to get to your shoulder.

Lockme Cabas

The Lockme Cabas model is a great bag designed to complete your outfit in an extraordinary way, so you enjoy your sense of pleasure and style. A perfect piece for mothers with children who have to travel a lot or carry excess material. You can easily place your needs in the bag as it has a fairly large interior face. A multi-faceted design that can be comfortably combined with various clothes.

Noe

The NOE model of the brand has an interesting history that most of us are not aware of its story. The bag produced in 1932 was designed to carry champagne and wine in those years. Over the years, the popularity of the model has increased and is currently being used as a daily bag by many women. The bag is produced in various sizes and designs for customers who would like to live diversity. Thanks to the extensive interior of NOE, you can easily move your items.

BONABAG

Since the first day of its establishment, BONABAG has prioritized sustainability as a priority. It showed that in the craze of mass production and consumerism, craftsmanship and personal production are possible. Every journey starts with passion. This journey, to the real and natural, was created with a passion for timeless designs. BONABAG is with you in every moment of your life with its handmade 100% genuine leather bag and accessory collections.



Hits: 1083
Site for quality women's underwear at low prices
---
Leggings with Lifting and Tightening Effect: True or False?
---
White Label World Expo 2023 - UK's leading online retail sourcing show
---
Which dress is best for a birthday girl?
---
5 Watches Worth Investing In Today
---
4 Types of Engagement Ring Settings
---
Choosing Lab-Grown Diamonds in Calgary
---
Why we can't get enough of unisex jewellery
---
Choosing the Right Hair Cut and Finding a Cut and Color Salon Near You
---
Why Wear Vintage Brooches?
---