Why we can't get enough of unisex jewellery
10 May 2022 | + Silvia Kabaivanova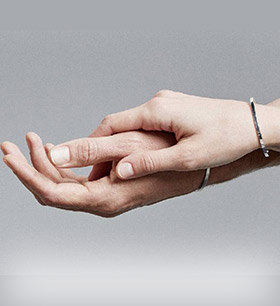 Forget everything you once knew about jewellery. Previously deemed "feminine", jewellery is being turned on its head and becoming a easy way to add personality to your outfits - no matter what gender you identify as. Unisex jewellery today has been given a little edge, and you can wave goodbye to those plain, outdated pieces you used to wear. Unisex jewellery is breaking the fashion mould, so why play it safe?
Yes, jewellery is for everybody
Jewellery can be worn by anyone, and the rise of unisex jewellery shows it's beyond a trend, it's a whole new movement. Many brands are getting in on the act, revolutionising their jewellery selection to make their designs more inclusive. 35% of Gen Z know of someone identifying as they/them, so it's relevant now more than ever. Gucci were one of the first brands to launch gender-fluid jewellery, along with Bulgari, both brands are at the forefront of fashion!
Though men's and women's jewellery aren't new concepts, gender-fluid jewellery is. It's all about how you wear it, but when there is no designated gender, you can truly express your authentic self. We are forgetting all about labels and expressing ourselves through our personal style, with no strings attached. Just know, that this isn't just some seasonal trend or phase, unisex jewellery is here to stay.
Sure, we've seen male celebrities and musicians in the past wearing jewellery. George Michael's recognisable earring look for example. But somehow, it still hadn't been quite accepted by everyone. Now, design houses, fashion muses and the normal folk like us have accepted it as a part of our everyday look - and we're living for it!
Unisex jewellery is the new trend
The king of unisex jewellery is Harry Styles. He certainly knows how to break the mould. He can rock a pearl necklace with an oversized suit, adding a touch of elegance to his recognisable 80's aesthetic. He also loves pearl earrings - just like us! And somehow it just works - his style is unapologetic and unique. His Met Gala look was a mood, with a mix of masculine tailoring, feminine tulle and pearl earrings, matching his rock'n'roll vibe

Earrings play a huge part in this trend - Harry Styles has proved so. Stacking is a huge jewellery trend so why not tick off two trends at once? Small hoops stacked on the ear lobe or stacked ear cuffs help your look appear edgy and different. Depending on your colour palette, it can be bright and eclectic. With maximalism being popular this season, you can spice up your simple, stripped-back outfits.

Necklaces also have an important role to play in this cultural shift. Timothée Chalamet has been known to rock a delicate chain with a statement pendant on the red carpet. Thanks to these trendsetters, the number of searches for "unisex jewellery" has risen - proving that everyone wants to try this out for themselves. Because why shouldn't you? Everyone deserves to feel fabulous in jewellery!



Hits: 1457
Non-Prescription Sunglasses, Daily Contact Lenses, and Monthly Contact Lenses: Points to Consider While Buying
---
How to Wear Headbands: A Comprehensive Guide to Selecting and Styling This Timeless Accessory
---
6 organizations will participate in the CLOTH project ClusterXChange in Ruse/Bucharest 19-21 April 2023
---
Site for quality women's underwear at low prices
---
Leggings with Lifting and Tightening Effect: True or False?
---
White Label World Expo 2023 - UK's leading online retail sourcing show
---
Which dress is best for a birthday girl?
---
5 Watches Worth Investing In Today
---
4 Types of Engagement Ring Settings
---
Choosing Lab-Grown Diamonds in Calgary
---